Winning photo Ocean Power Watersports Photography Awards 2021. Photographer: Samuel Cárdenas (Spain)
The Spanish photographer wins the Ocean Power Watersports Photography Awards, with a surf photograph taken in Tarifa.
Dénia (Spain), 28th November. The Alicante town of Dénia hosted this past Saturday the awards gala of the international photography competition Ocean Power Watersports Photography Awards held at the Real Club Náutico de Dénia, which acted as host receiving presidents and representatives of several national federations of our country, photographers and friends of water sports and photography.
The photograph presented by Samuel Cárdenas, a native of Tarifa, was awarded as the best water sports photo of 2021, getting the highest vote of the jury among all the photos presented in the Ocean Power Watersports Photography Awards 2021. The photographer from Tarifa explained after receiving the award: «The sea means everything to me. Since I was a child I have always been close to it and it has been my escape route for everything. I am a lover of photography, but above all of the sea. I am very happy to have won this award, I honestly didn't expect it». Cárdenas added: «This photo was taken in Tarifa in winter. A friend who lives in Barcelona called me to tell me that he was planning to fly to Tarifa that very day, as the forecast was for very good waves. So I went with him to his session and captured this image which I decided to submit to the competition, as it is one of my favourite surfing pictures I have ever taken».
The winners
The Ocean Power Watersports Photography Awards also crowned the best images of 2021 in each of the categories across the eleven watersports federations. Photographers from fifteen different nationalities competed for the water sports awards and the winners were:
– Edgar Marín (Spain), Water Skiing and Wakeboarding.
– Natalia Gorka (Poland), Water Skiing and Wakeboarding
– Joao Costa (Portugal), Swimming
– Ainhoa Muñoz (Spain), Fishing and Casting
– Damiano Benedetto (Italy), Canoeing
– Ellen de Monchy (Netherlands), Rowing
– Javier Sánchez (Spain), Lifesaving and Lifeguarding
– Teresa Losada (Spain), Underwater Activities
– Samuel Cardenas (Spain), Surfing
– Juan Carlos Dominguez (Spain), Triathlon
– Clive Mason (United Kingdom), Sailing
This international water sports photography competition also wanted to award five special categories, which by their unique nature caught the attention of the seven members of the jury. The winning photographers in these special categories in this 2021 edition were:
– Swen de Kam (The Netherlands), Ocean Power Award for «Promising Young Photographer».
– Nico Martinez (Spain), Gipsy Gin award for the best Classic and Old School Sailing photography.
– Ainhoa Muñoz (Spain), Water Sports Plastic Free Foundation award for the best water sports and marine sustainability photo.
– Clive Mason (United Kingdom), Go! Port award for the best water sports and nautical tourism photo.
– Ainhoa Muñoz (Spain), Dénia Marriott La Sella Hotel award for the best photo by public vote.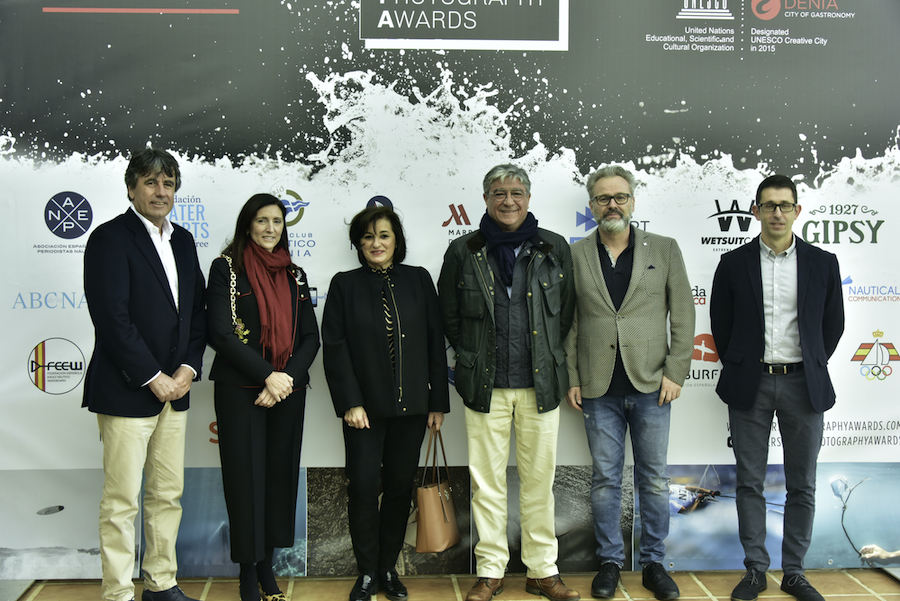 Opening of the travelling exhibition
After the awards gala, Vicent Grimalt, Mayor of Dénia, inaugurated the exhibition with the winning photographs of the Ocean Power Watersports Photography Awards 2021, which will remain until the 30th of November at the Real Club Náutico de Dénia and will later move to Marqués de Campo street in Dénia, where they will be on public display from the 1st to the 12th of December.
Finally, the exhibition will tour our country visiting the main coastal destinations, yacht clubs, sports marinas, boat shows and sporting events in Spain until August 2022.
Statements
Vicent Grimalt, Mayor of Dénia: «We are delighted to host events of this nature. Dénia is a city where the sea has always been the protagonist. And to merge culture and sport through this international water sports photography contest, we consider it a success. Competitions like this, held out of season, help us to continue to make our city known as a reference point for the sea and to achieve the much-needed deseasonalisation. «Sergio W. Smit, director of the Ocean Power Watersports Photography Awards: «The process of creating this event has been fabulous. In my entire career I have not come across a project with as much empathy and support from water sports institutions and federations as this one. We started organising it only two months ago and we have already achieved, in an extraordinary way, to be the meeting point for hundreds of photographers related to water sports. Undoubtedly, now that we have a year ahead of us to organise the 2022 edition, we are going to continue promoting it to establish it as one of the reference events for photography, the sea and sport at an international level».
Jaime Portolés, president of the Real Club Náutico de Dénia: «For our Club, water sports are something fundamental that have always given us a lot of joy, both in competitions and in terms of nautical tourism. And hosting this international photography competition is in line with our support for the sea, culture and sport. Bringing together all water sports disciplines in a single event is a success. And I am sure that this event will be a great meeting point for all of them».
Toni Forqués, director of Ocean Power: «From the moment we were given the option to be part of this event, we saw it as a great opportunity. Rarely do you have the chance to bring together photographers from all water sports and this photo contest, in its first edition, has already achieved such important milestones as having the support of national federations, their presidents and photographers from more than fifteen countries. Ocean Power will be delighted to continue to support this event year after year».